29 Apr
Yes, apparently it's really absinthe. The novelty of absinthe got me to buy it, but unfortunately it took me months to finish it.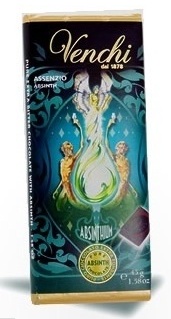 Honestly, on my first bite I was mortified. I couldn't get past the bad aftertaste. I'm not a fan of black licorice and that's the lingering flavor you'll taste – which is not a bad thing if you are a fan of black licorice.
The chocolate itself was pretty waxy and has a sharp snap. I bought this from Bittersweet, but you can check it out online here.
Price: $4.99
Cacao beans: 1 out of 5